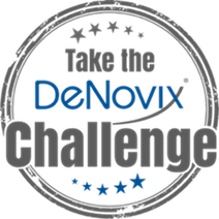 Take the DeNovix Challenge and decide for yourself!  No PO or specific commitments are required. Simply complete the form on this page and we will initiate your evaluation.
Free One-Week Trial
Free Shipping to/from Your Lab
Free dsDNA Fluorescence Quantification Kit
Free "DeNovix Challenge" T-Shirt
Free Trial Process
The trial period will be one week from the receipt of the instrument. Our range of DS-11 Series instruments allow for any combination of 1 uL UV-Vis, cuvette UV-Vis and integrated fluorescence. Most of our free trial instruments are the DS-11 FX+ models which include all three measurement modes integrated into one compact instrument. The DS-11 FX+ enables measurements across the full dynamic range of the instrument during an evaluation (0.0005 – 37500 ng/uL dsDNA). Please select a free assay kit from the form below if your Free Trial is a DS-11 Series instrument or the QFX fluorometer.
During the trial, a DeNovix specialist will follow up to see if you have any questions about the applications or features of the instrument you are testing. Please test non-radioactive samples only. After 1 week, please decontaminate and ship the instrument back using the supplied shipping label.
The DeNovix Inc. Free Trial Program is available to US customers. Elsewhere our local distributors will arrange a demonstration at your facility.
---
Request Form
To request a Free Trial, please complete the form below. We will process your request as soon as possible and send you a confirming email.
Please note, the address below must be your shipping address.
*required fields