Introduction
The DeNovix® DS-11 Spectrophotometer is a compact, stand-alone instrument with clear advantages over leading competitors. The table below highlights some of the key features and advantages of the DS-11 versus the NanoDrop™ 2000.
DeNovix DS-11
Advantage
NanoDrop™ 2000
Advantage
Fluorescence Option
Yes - DS-11 FX and DS-11 FX+ (UV,Blue,Red,Green)
√
None
-
Warranty
2 years
√
I year
-
Built-in Connectivity
Yes, WiFi, Ethernet, USB
√
USB only
-
SmartPath® Technology with Bridge Testing®*
Yes
√
No
-
Protein Performance
Outstanding
√
Only if sample column is formed properly*
-
Bench Space Required
20 x 33 cm
√
50 x 22 cm
Instrument and Laptop
-
Microvolume Pathlength
0.5 mm
√
1.0 mm*
-
Max Concentration
dsDNA: 37,500 ng/μL
IgG: 547 mg/mL
√
dsDNA: 15,000 ng/μL
IgG: 219 mg/mL
-
Absorbance Range
0.015 – 750 AU
√
0.04 – 300 AU
-
AutoRun Feature
Yes
√
No
-
Pathlength Control
Precision screw driven by high resolution servo motor
√
Adjustment screw driven by stepper motor
-
Built-in Computer
Yes
√
No, requires a PC
-
Operating System
Android™
√
Windows® with version specific requirements
-
Display Type
7 " HD Color Touchscreen
Glove Compatible
√
None
-
Software
Preconfigured EasyApps®
√
Standard Windows® Interface
-
Color Availability
Arctic White, Brazilian Blue,
Tungsten Silver, Fire Red
√
Beige
-
Design
Modern look
√
Dated
-
Recalibration Required
No
√
Recommended
-
*An erroneous measurement can occur if an insufficient sample volume is pipetted for the microvolume measurement. In addition, many microvolume spectrophotometers, such as the NanoDrop™ 2000, can exhibit a phenomenon referred to as "unconditioning." This is when the surface loses its hydrophobic property, and droplets spread out instead of beading up. The NanoDrop™ 2000 does not alert the user to a broken column and allows erroneous measurements to go undetected.  The DS-11 SmartPath® Technology detects if a sample does not fully bridge the path gap and automatically compensates for the issue in real time.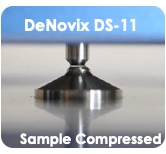 Summary
The next generation DeNovix DS-11 introduces new features to the microvolume spectrophotometer market, providing more confidence for a broader range of sample types and sample concentrations.
NanoDropTM and NanoDropTM One are registered trademarks of Thermo Fisher Scientific.