DeNovix Awarded Top Honor by Scientists for Second Year in a Row
WILMINGTON, Delaware, USA  – April 24, 2018 (WILMINGTON, Delaware, USA)
During a recent ceremony held at the annual AACR (American Association of Cancer Research) meeting in Chicago, IL., DeNovix was awarded the SelectScience® Reviewers' Choice Life Science Product of the Year for the second year in a row.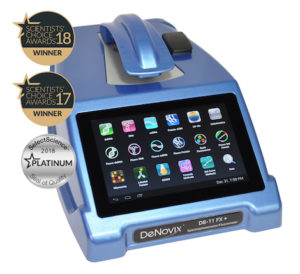 The award is given each year in recognition of the product most highly rated by scientists around the world based on criteria such as ease of use, performance, service and support. The DS-11 FX+ is a unique combination of 1 uL spectrophotometer, cuvette absorbance and fluorometer that enables researchers to gain quick and accurate quantification of nucleic acids and proteins, robust sample quality control and perform a range of UV-Vis and fluorescence applications.
"We congratulate DeNovix for being awarded this exceptional achievement for an astounding two year's running," said SelectScience Editor-in-Chief, Kerry Parker.
"We are very proud to be consistently rated so highly by scientists worldwide," stated Fred Kielhorn, CEO of DeNovix. "Receiving awards based on the feedback of our customers is a great honor and validates that our instrument's design and performance, as well as our commitment to exceptional customer support, have had a meaningful impact in the scientific community."
The DS-11 FX+ is a stand-alone instrument with DeNovix' custom Android™ operating software, Wi-Fi / Ethernet network connectivity and a glove-compatible HD touch screen. Each new instrument is maintenance-free, never needs recalibration and backed by an industry-leading three-year factory warranty.
The primary applications for the instrument are UV-Vis measurements for nucleic acid and protein quantification, kinetic studies and microbial cell quantification. The intuitive interface helps users quickly create custom methods that may be defined and saved in password-protected accounts. Results are automatically stored and easily exported to e-mail, USB, network folders, network printers, LIMS, USB drives and label printers. IQ/OQ documentation and performance verification software is available to help achieve compliance in GLP/GMP environments.
— more —
About DeNovix Inc.
DeNovix Inc., founded in 2012, is a multi-award winning instrumentation company based in Wilmington, DE, USA that develops, manufactures and sells laboratory equipment to meet the demands of today's evolving life science research. The company's products include stand-alone UV-Vis spectrophotometers, fluorometers and integrated spectrophotometer / fluorometer instruments. Systems feature a built-in Android OS, easy-to-use HD touch screen interface, Wi-Fi, USB and Ethernet connectivity, four-second measurements and multiple color choices. Additional information is available at www.denovix.com.
Media Contact
DeNovix Inc.
Andrew Jones
info@denovix.com