DS-C Cuvette Spectrophotometer
Cuvette Quantification Made Easy
The DeNovix DS-C is an easy-to-use UV-Vis cuvette spectrophotometer with outstanding dynamic range, sensitivity and flexibility. Rapidly quantify biomolecules using any cuvette with an 8.5 mm z-height. The instrument includes preinstalled EasyApps for nucleic acids, proteins, colorimetrics assays, OD600, Kinetics, Custom Methods and more.
Easy to Learn. Fast to Use.
The DS-C features the most powerful and intuitive software in its class. Pre-installed DeNovix EasyApps™ software and a breakthrough Custom Linux™ OS touchscreen interface ensure error-free operation and sample results under 2 seconds. Every instrument is ready right out of the box.
Autosave millions of samples.
Common quantification assays pre-configured
Easily create custom assays
Compatible with a wide range of quartz and disposable cuvettes
Unrivaled Connectivity and Storage.
Built-in Wi-Fi, Ethernet and USB allow easy export of the data you want in the format you need. 32 GB of memory allows storage of millions of results!
Email a csv or color jpg of your results right from EasyApps
Automatically save data to network drives or LIMS
Flexible export to easily rename and save the fields you desire
Print results or graphs to network and label printers
Save to USB
Kinetics
Create simple kinetics methods measuring two absorbance wavelengths over a user-defined measurement frequency and period.  EasyApps streamlines the process to create and save custom methods and enables cuvette temperature control between and 37° and 45° C.
Cell Culture OD 600
The high-particulate nature of bacterial cell cultures benefit from a longer measurement pathlength. The particulates in these samples scatter light, and a 10mm pathlength provides a longer cross-section of the sample for the spectrophotometer's light beam to travel through. This ensures the highest degree of accuracy and reproducibility when measuring these types of samples.
Software Features
21 CFR Part 11 Compliance Ready
EasyApps Secure provides an optional suite of software controls that allow regulated GxP facilities to easily add DS-11 Series instruments to their compliant workflows (view the compliance statement). The software is fully integrated within the on-board operating system and includes a range of features essential to ensuring compliance, including:
Password protected system access
Integrated electronic signature controls
Comprehensive user account management
Secure audit trail recording
Advanced data handling and export tools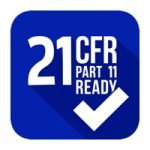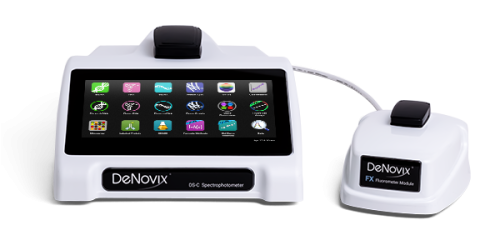 FX Fluorometer Module
Instantly add the power of fluorescence detection to the DS-C Spectrophotometer. The FX Module uses the same fluorescence detection as the DS-11 FX, DS-11 FX+ and QFX. Simply plug in this USB powered accessory and DeNovix fluorometric EasyApps are immediately enabled. With four user-selectable LEDs, the easy-to-use apps are compatible with a wide range of commercially available assays including those designed for Qubit™ and Quantus™ platforms.
Fluorometers are used for precise quantitation of biological molecules including nucleic acids and proteins in microliter (μl) samples.
Whether you're curious about optimizing sample prep or LED selection, check out this resource on the best practices for fluorescence measurement.
Absorbance and fluorescence are unique but complementary methods for assessing concentration and sample QC. Download this free infographic.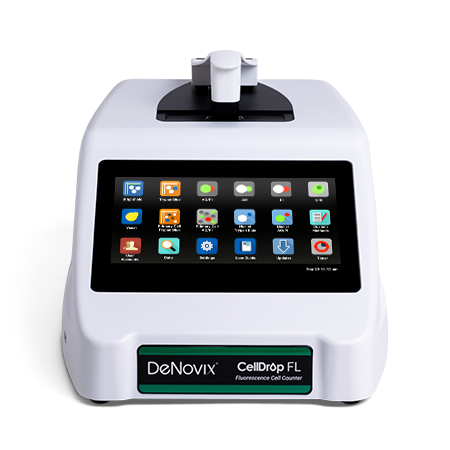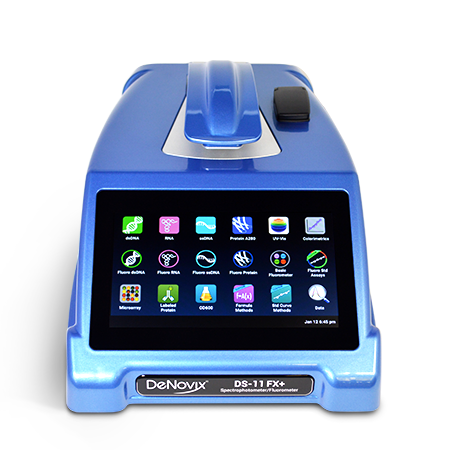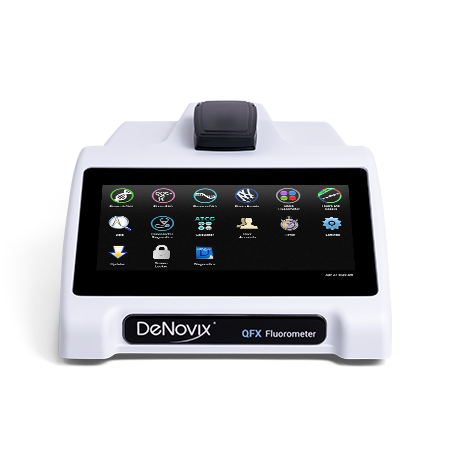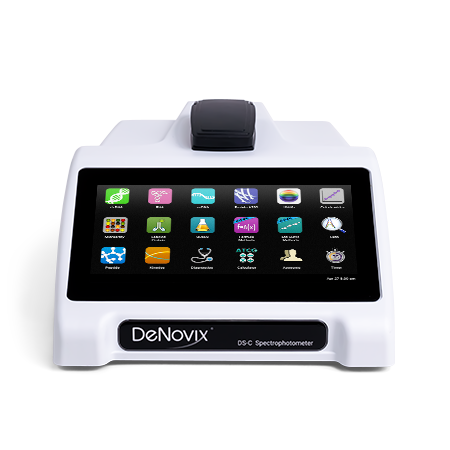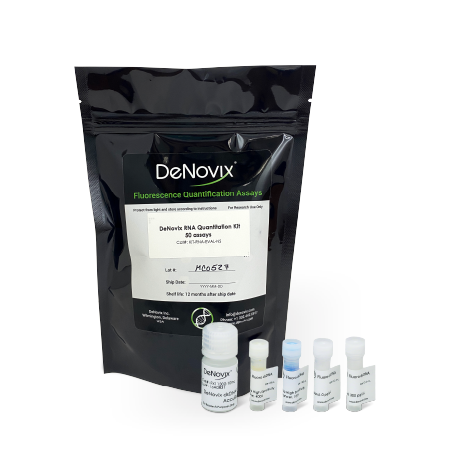 For Research Use Only
Quantus™ and QuantiFluor™ are registered trademarks of Promega Corporation and its subsidiaries and are used for identification and references purposes only. DeNovix, DeNovix products and this website are not endorsed or authorized by or in any way affiliated with Promega Corporation.
Qubit™ and Quant-iT are registered trademarks of Thermo Fisher Scientific and its subsidiaries and are used for identification and references purposes only. DeNovix, DeNovix products and this website are not endorsed or authorized by or in any way affiliated with Thermo Fisher Scientific.