Powerful Quantification
The QFX Fluorometer is more sensitive and reproducible than any other instrument in its class. The QFX is a powerful solution for all fluorometric applications where enhanced specificity or sensitivity are needed. Quantify nucleic acids and proteins using four fluorescent channels with a choice of common assays built into measurement apps or easily create custom apps for the ultimate in fluorometer flexibility. The QFX outperforms Qubit® and other tube fluorometers giving superior data quality, more powerful software and full network integration for seamless data handling.

Combined with the DeNovix Fluorescence Assays, the QFX offers quantification of DNA between 0.5 pg/µL and 4000 ng/µL. The ideal solution for quantification of degraded or low concentration samples, even in the presence of common contaminants.
Easy to Learn. Fast to Use.
The QFX features the most powerful and intuitive software in its class. Pre-installed DeNovix EasyApps® and an intuitive touchscreen interface ensure error-free operation and sample to data in under 2 seconds.  Every instrument is ready right out of the box – no PC set-up or software installation required.
Autosave up to 2 million samples.
All common quantification assays pre-configured
Easily create custom assays
Four Fluorescence Channels with the Researcher in Mind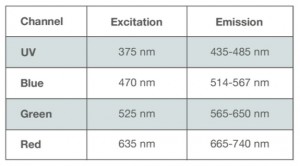 DeNovix Fluorometers include four emission and excitation channels to provide scientists the flexibility to use the fluorophore and detection ranges of your choice. Choose from UV (375 nm), Blue (470 nm), Green (525 nm) or Red (635 nm) excitation sources.
Fluorescence Freedom!
DeNovix fluorometers give scientists the flexibility to choose any fluorescent assay, not just the assays supplied by one manufacturer. Fluorometer apps are pre-configured for DeNovix Fluorescence Assays and other common commercially available assays measured in standard 0.5 mL thin-wall PCR tubes. Assays included in DeNovix EasyApps® include:
dsDNA: DeNovix dsDNA Broad Range, DeNovix dsDNA High Sensitivity, DeNovix dsDNA Ultra High Sensitivity, Quant-iT PicoGreen® , Quant-iT  dsDNA HS, Quant-iT  dsDNA BR, Qubit®dsDNA BR, Qubit®dsDNA HS, Quantifluor dsDNA and Quantifluor One dsDNA
RNA: DeNovix RNA Assay, Quant-iT Ribogreen, Quant-iT RNA BR, Quant-iT RNA HS, Qubit® RNA BR, Qubit® RNA HS, Quantifluor RNA, Quant-iT microRNA, Qubit® MicroRNA
ssDNA: Quant-iT OliGreen, Qubit® ssDNA, Quantifluor ssDNA
Protein: Quant-iT Protein, Qubit® Protein
Unrivaled Connectivity
Unlike any other instrument in this class, the QFX is fully network integrated. Built-in Wi-Fi, Ethernet and USB allow easy for export of the data you want in the format you need. The QFX also has onboard storage capacity for over 2 million samples.
Email a csv or color jpg of your results right from EasyApps
Automatically save data to network drives or LIMS
Print results or graphs to network and label printers
Save to USB
Fluorescence Detection
Light Sources
Blue LED (~470 nm), Green LED (~525 nm),
Red LED (~635 nm), UV LED (~375 nm)
Excitation Filters
Blue: 442-497 nm, Green: 490-558 nm,
Red: 613-662 nm, UV: 361-389 nm
Emission Filters
Channel 1: 514-567 nm, Channel 2: 565-650 nm,
Channel 3: 664-740 nm, Channel 4: 435-485 nm
Detectors
Photodiode, detection range 300-1000 nm
Tube Type
0.5 mL Real Time thin-wall PCR tube (polypropylene)
Onboard Controller (No PC required)
| | |
| --- | --- |
| Operating System | Custom Linux® OS |
| CPU | Quad-core Cortex-A72 |
| Display | 7″ high definition color display |
| User Input | Touch screen with swipe and pinch motion; glove compatible |
| Internal Storage | 32GB flash drive |
| Connectivity | 3 USB ports for printer, barcode reader and USB drive |
| Networking | Ethernet and Wi-Fi |
General
| | |
| --- | --- |
| Colors | Arctic White |
| Measurement Time | 2 seconds |
| Footprint | 20 cm x 27 cm |
| Weight | 1.1 kg |
| Operating Voltage | 12 VDC |
| Operating Power Consumption | 10 W; max 30 W |
| Approvals | CE, UL/CSA, FCC and Japan CAB |
| Manufacture Location | USA |
Global health security hinges on our ability to contain and combat infectious disease outbreaks. The...
The DeNovix® dsDNA Ultra High Sensitivity Assay enables the accurate detection of purified double-stranded DNA (dsDNA) samples with a standard detection range of 0.5 pg – 300 pg total mass in 200 µL volumes and is compatible with a range of fluorometers and microplate readers.
Learn about the DeNovix Accounts app and how you can configure your DeNovix instruments to use password protected accounts, preferred methods and measurement modes, save email addresses and more.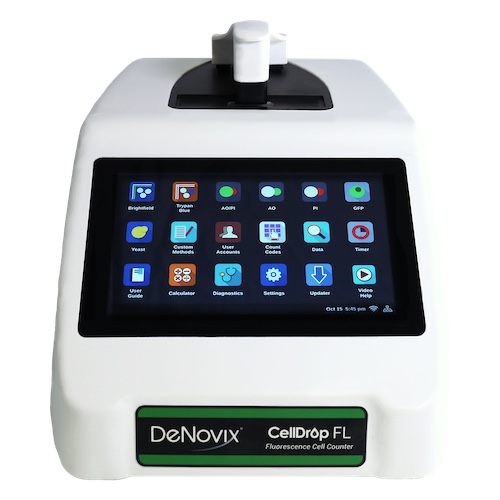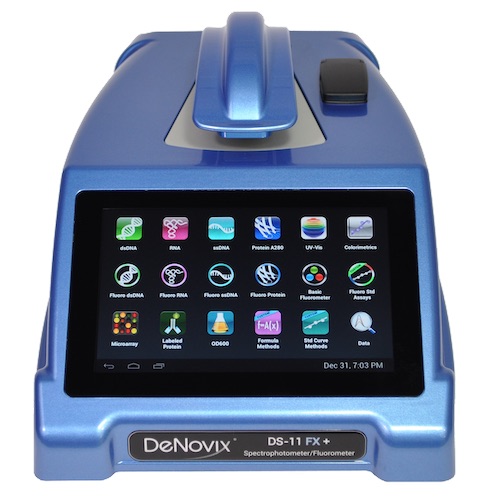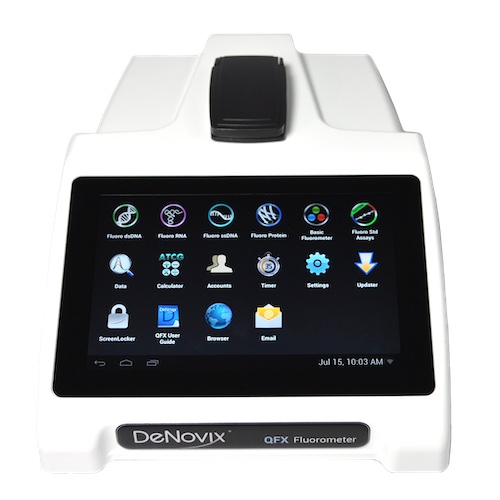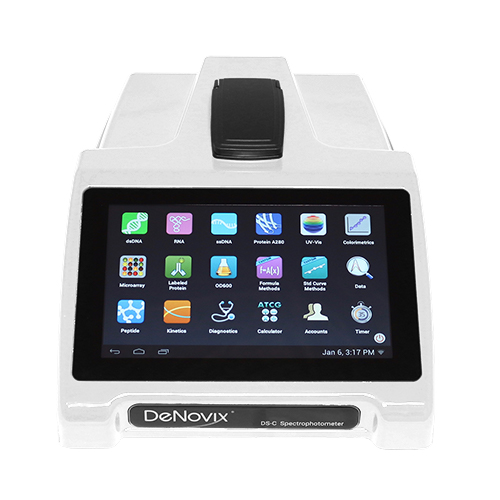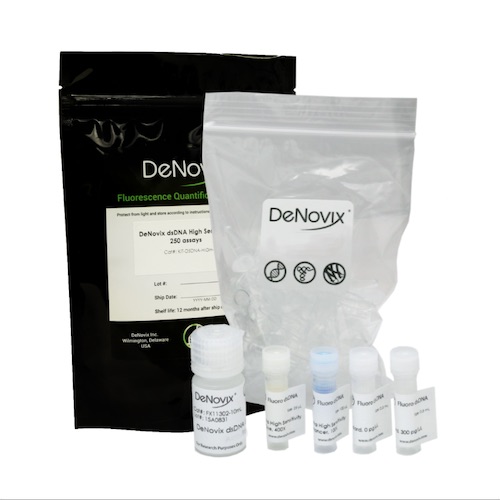 Qubit®, Quant-iT and PicoGreen® are registered trademarks of Thermo Fisher Scientific
QuantusTM and QuantiFluor® are trademarks of Promega Corporation
For Research Use Only