The DS-11 Series Spectrophotometer / Fluorometer from DeNovix and the Thermo Fisher Qubit™ fluorometer are often used for fluorescence quantification of proteins, nucleic acids and other biomolecules. In the technical note linked below, you will find a full comparison of system performance and instrument features of the DeNovix DS-11 Series fluorometer and the Thermo Fisher Qubit™ fluorometer. We also provide a performance comparison of DeNovix dsDNA Quantification Assays and Thermo Fisher Qubit™ dsDNA assays.
Precise fluorescence quantification is achieved with the DS-11 Series using a proprietary optical core and a versatile set of four fluorescence channels. Combined with DeNovix dsDNA Fluorescence Assays, the DS-11 Series fluorometer provides the highest sensitivity and the widest dynamic range for quantification available with a detection limit 20X below Thermo Fisher's Qubit™ and an upper range 2X higher.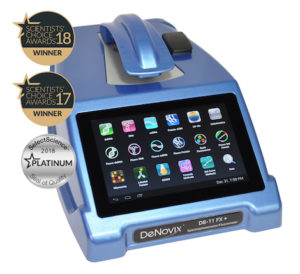 For the full comparison of DeNovix DS-11 Series Fluorometers vs. the Thermo Fisher Qubit™ fluorometer, read the full technical note here.
Qubit™ is a registered trademark of Thermo Fisher Scientific and its subsidiaries and is used for identification and references purposes only. DeNovix, DeNovix products and this website are not endorsed or authorized by or in any way affiliated with Thermo Fisher Scientific.